Description
Description
Authentic TR-606 and so much more.
The TR-06 is a detailed replica of the classic Roland TR-606 with some major modern upgrades. Our new Roland Boutique version has the distinctive tone and iconic look of the original, with more sound-shaping options, innovative sequencing capabilities, and an array of triggers for driving modular gear.
Released in 1981 as a companion to the TB-303 Bass Line, the TR-606 was a programmable drum machine whose size, price, and ease of use made at-home music production more accessible to everyone. The punchy midrange kicks, popping toms, and sizzling hi-hats were a hit with DIY musicians, appearing across genres from '80s new wave and punk to all types of electronic styles.
The sound of the 606 is unique in the TR family and the backbone of numerous classic and underground tracks. But while many love its distinctive tone, it wasn't especially versatile. The TR-06 reimagines the original with new sound-crafting potential and plush onboard effects. Control tuning, decay, and pan for each instrument, or crank up the internal gain, pushing the circuit model into warm overdrive or aggressive distortion. The onboard compressor adds warmth and punch, while the tempo delay creates depth and space from subtle repeats to controlled chaos.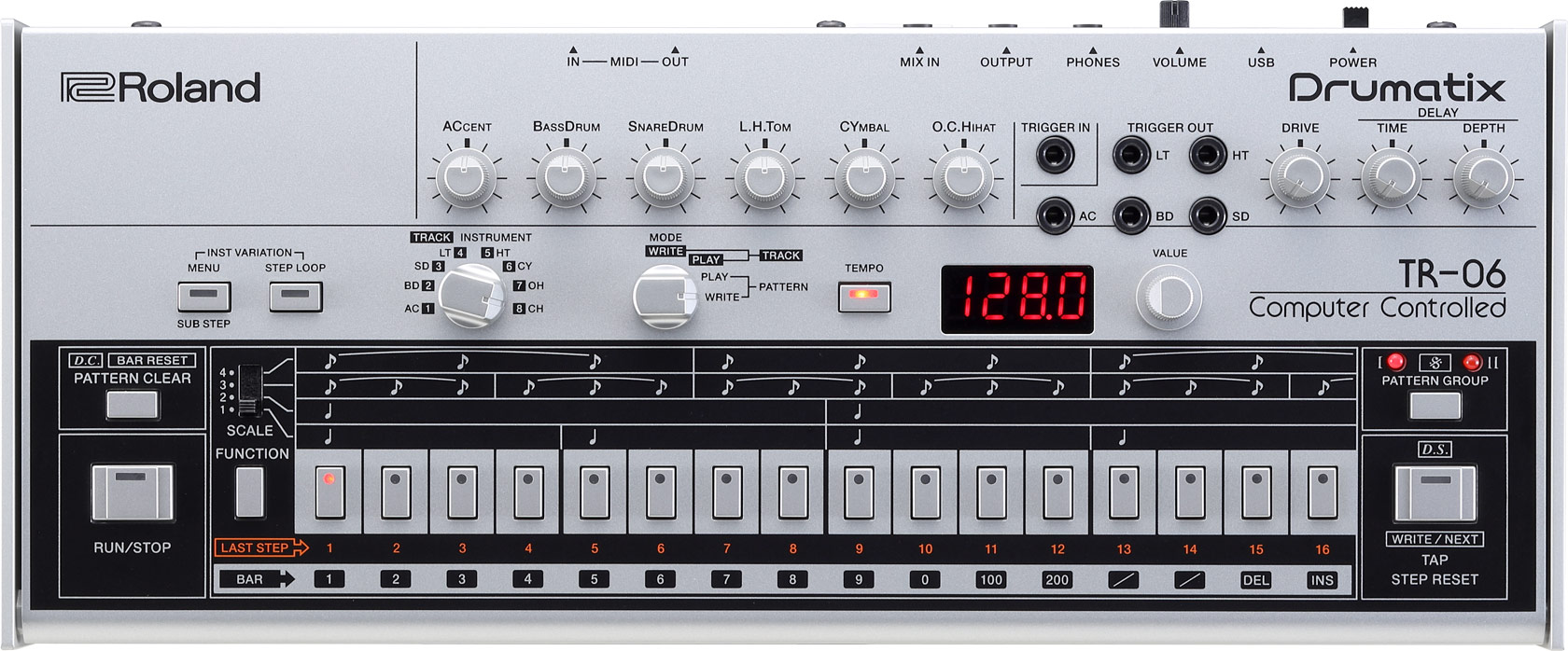 Advanced sequencer.
Like the original, the step sequencer in the TR-06 is familiar and straightforward, so you can bang out any type of beat quickly and easily. And now it's been updated with advanced features like adjustable sub-steps for ratcheted parts, step-loop for instant pattern slicing, and per-step probability for beats that never get boring. Many modular and tabletop rigs are missing a good drum sequencer that's convenient and easy to use. The TR-06 has five trigger outs and a trigger in, so it's easy to interface with other gear, sparking new ideas and creative possibilities. Sequencing is fast and fluid, and you can mix and layer your external modules with the TR-06's internal sounds for massive rhythmic sequences.
Built tough and ready for anything.
Like other Roland Boutiques, the TR-06 is sturdy and well-constructed with a solid metal top and a color-matched case with three tilt options. It's a high-quality USB audio interface for quick and easy recording with your computer and can run on standard AA batteries for hours of uninhibited jamming. It even has a built-in speaker, because you never know what life might throw your way. Pair the TR-06 with the TR-606 Software Rhythm Composer available on Roland Cloud and enjoy the benefits of easy hardware and software integration. The TR-606 plug-in has expanded sequencing capabilities, and the TR-06's knobs are pre-mapped for intuitive, hands-on workflow.
SPECIFICATIONS:
Drum Sounds

Kick/Bass Drum with Variations
Snare with Variations
Low Tom with Variations
Hi Tom with Variations
Cymbal with Variations
Hi-Hat (Open)
Hi-Hat (Closed)

Number of Rhythm Pattern Presets

128 x User Pattern

Built-In Effects

Dynamic FX: Compressor
6 x Delay: Delay, Pan Delay, Tape-Echo, Reverb, Flanger, Side Band Filter
5 x Distortion/Drive: Saturator, Bit Crusher, Distortion, LPF, HPF
Audio I/O

1 x 1/8" / 3.5 mm TRS Headphone Output
1 x 1/8" / 3.5 mm TRS Unbalanced Stereo Output
1 x 1/8" / 3.5 mm TRS Stereo Mix Input

MIDI I/O

1 x DIN 5-Pin Input
1 x DIN 5-Pin Output

CV/Gate I/O

1 x 1/8" / 3.5 mm TS Trigger Input
5 x 1/8" / 3.5 mm TS Trigger Output

USB

1 x Micro-USB (MIDI, Host Connection)
Reviews
Reviews (0)
Be the first to review this product.
Additional Info
Videos